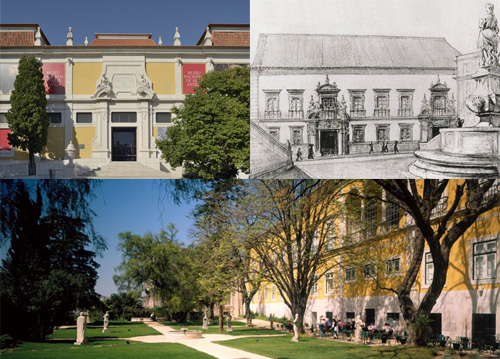 Since its foundation, the Museu Nacional de Arte Antiga has been housed at the palace built in the late 17th century at the behest of the first Count of Alvor, after his return from India, where he had served as Viceroy. The palace remained in the hands of the family until the mid-18th century, when it became the property of a brother of the Marquis of Pombal, Paulo de Carvalho, before becoming the residence of a rich diamond trader, Dutch consul in Portugal, Daniel Gildemeester, who sponsored major improvement work to the building's interior spaces.
Being a typical example of the Portuguese civil architecture of that period, the palace has a long façade running parallel to the street. The building has a highly simple design with the only decoration being its ornamental baroque doorways. Two of the rooms have ceilings that were painted with
quadrature
by the Florentine artist Vincenzo Bacherelli, certainly in the time of the first or second Count of Alvor. In the mid-18th century, other ceilings were given fanciful
rocaille
stucco decorations, attributed to Giovanni Grossi, some of which still display rare traces of the original decorative programmes, highlighting the internationalisation of the tastes of the great aristocratic families, in a court society that was undergoing a process of profound renewal at that time.
In order to adapt to the growth in its collections and to respond to the new demands placed upon museums, the MNAA has been enlarged on successive occasions, incorporating into its exhibition circuits the chapel of the now disappeared convent of St. Albert, built between 1583 and 1598, and completely covered with carved and gilded woodwork and decorative tiles. In the first half of the 20th century, the western annexe was added to the building (designed by the architect Guilherme Rebelo de Andrade 1930/40), while an extension was also added to the eastern wing (between 1942 and 1947), intended to be used as an Auditorium, Library and Print Room.
More recent modernisation work was carried out by the architect João de Almeida in 1983 and again in 1992-1994. These improvements made it possible to expand the size of the spaces housing the permanent exhibition, as well as those used for temporary exhibitions, and to enlarge the areas used by the technical and administrative departments. At the same time, improvements were also made to the areas used by the general public, thus enabling them to better enjoy their visit to the most important Portuguese museum.