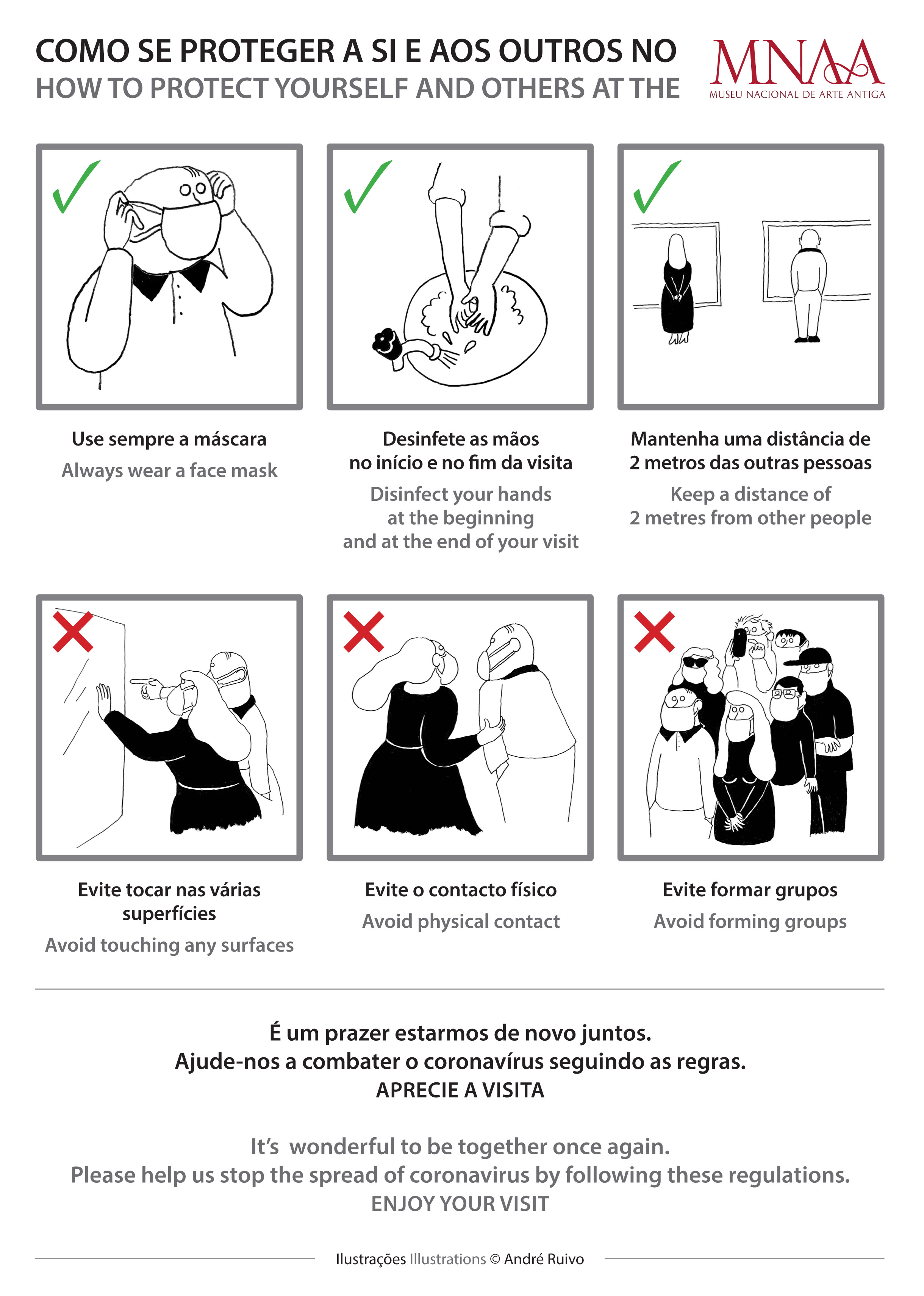 THE MNAA IS TEMPORARILY CLOSED
In response to the rising number of COVID-19 cases across the nation, and due to the Portuguese government's measures to prevent the coronavirus, the MNAA temporarily closed its doors to the public on Friday, January 15 2021.




OPENING TIME
Tuesday to Sunday: 10h-18h
Closed: Monday, January 1, Easter Sunday, May 1, June 13 and December 25





ATTENTION


Within the scope of the COVID-19 pandemic, some areas of the Museum may not be available to the public. For more information, please ask at the main reception (entrance through Jardim 9 de Abril):
Level 1
- Portuguese Furniture – Rooms closed between 10h00 and 18h00
- Patiño Room - closed between 10h00 and 18h00
- Shop between 14h00 and 15h00
- Ticket office (entrance Janelas Verdes) between 10h00 and 18h00
- Chapel of the Albertas: from 15h00 to 18h00
Level 2
Rooms closed between 13h00 and 14h00

– The jewellery exhibition is temporarily closed for renovation.


The Library of the MNAA it will be closed, between August 26th and September 4th, for reasons that respect the need to reorganize the existing documentation.
We apologize for the inconvenience caused. We reopened on September 8th.


WE APPOLOGIZE FOR ANY INCONVENIENCE.
-----------------------------------------------------------------------------------------------------------------------------ADMISSION CHARGES

Due to COVID-19 pandemics: Payment by card. The ticket office will accept on an exceptional basis cash payments of the exact amount only.


Normal:
€6.00
Donation tickets for safeguard and valorization of the portuguese heritage:
1.00
€
| 5.00
€
| 10.00
€
Discounts:

- Senior citizens aged 65 or over –
50%

- Student card holders –
50%

- Young person's card holders –
50%

- Family ticket (four or more people of direct descent) –
50%

- Group bookings of more than 250 tickets made at least 48 hours in advance –
7.5%

- Group bookings of more than 500 tickets made at least 48 hours in advance –
10%

- Group bookings of more than 1000 tickets made at least 48 hours in advance –
15%

- Protocols with third parties –
20%

Riverside ticket:
Museu Nacional de Arte Antiga, Museu Nacional do Azulejo and Panteão Nacional –
15.00

€



Lisbon ticket:
Casa-Museu Anastácio Gonçalves, Museu da Música, Museu Nacional de Arte Contemporânea-Museu do Chiado, Museu Nacional de Arte Antiga, Museu Nacional do Azulejo, Museu Nacional do Traje, Museu Nacional do Teatro, and Panteão Nacional –
25.00

€



Free admission

(requiring presentation of documentary proof)
- Free entry at sundays and holidays until 2.pm for all portuguese citizens and foreign residents in Portugal (requiring presentation of documentary proof) (except on the temporary exhibition:
WARRIORS & MARTYRS. Christianity and Islam in the birth of Portuguese nationhood
)
- Children aged 12 or under
- Unemployed visitors resident in the European Union
- Disabled visitors (60%) and 1 companion
- Researchers, conservators, restorers, museum and/or heritage workers on professional service
- Young people residents in Portugal, born in 2000 - upon presentation of an identity document
- ICOM, ICOMOS, APOM and ANBA card holders
- Journalists on professional duty, with prior notice
- Teachers and students from any level of education, including universities (in study visits, booked in advance by the school)
- Accredited groups from Portuguese Charity Institutions, Municipal Social Services or others institutions of public interest, with prior authorisation by the Directorate-General for Cultural Heritage (DGPC)
- Groups of Friends of museums, monuments, palaces, castles and archaeological sites
- Workers of DGPC and 3 companions
- Volunteers working at the DGPC and 1 companion
- Tourism workers (RNAAT)
- Members of the National Academy of Fine Arts of Lisbon
- Free admission to museums, palaces and monuments for citizens residing in national territory, in the year in which they turn 18, according to Despacho n.º 2880/2020 published in Diário da República No. 45/2020, Series II of 2020-03-04
----------------------------------------------------------
Temporary Exhibition: «Warriors & Martyrs. Christianity and Islam in the birth of Portuguese nationhood»
TICKET PRICE
Normal
Exhibition: 6,00
€
Exhibition + Museum: 10,00
€
Children (until 12 years inclusive) + DGPC + GAMNAA + ICOM + AICA + press + teachers and guides in formation or exercise of functions + Disabled visitors (60%) and 1 companion (requiring presentation of documentar proof)
Exhibition: Free
Exhibition + Museum: Free
BPI and CaixaBank (card holders)
Exhibition: Free
Exhibition + Museum: Normal 6,00
€
| 13 to 18 years and Senior 3,00
€
Lusitânia Seguros (requiring presentation of documentar proof)
Exhibition: Free
Exhibition + Museum: Free
13 to 18 years
Exhibition: 3,00
€
Exhibition + Museum: 9,00
€
Senior (more than 65 years)
Exhibition: 3,00
€
Exhibition + Museum: 6,00
€
Schools and universities (Basic school to PhD) (booking in advance)
Exhibition: Free
Exhibition + Museum: Free
Senior universities/by student (free for the teacher) (booking in advance)
Exhibition: 3,00
€
Exhibition + Museum: 3,00
€
Tourist agencies and operators
Exhibition: 10% discount for groups of 20 tickets
Guided tours
Groups (max. 10 persons): 30,00
€
Basic, primary and secondary schools: Free