Andrea Mantegna was one of the most significant painters of the first Italian Renaissance. In Padua, his city of birth, he was an apprentice in the studio of Francesco Squarcione, a stimulating environment filled with souvenirs of trips to Greek and Italy, models and sculpture of ancient and modern origin, coins and drawings. Venetian painters active in Padua, particularly Giovanni and Gentile Bellini, also had a strong influence on the young artist, but it was the arrival of Donatello in the city, to make the bronze equestrian statue of the condottiere Gattamelata, that opened his eyes to new perspectives. Donatello is likely to have inspired the heroic and monumental style of Mantegna's earliest works, as well as his burgeoning enthusiasm for classical Antiquity. In 1460, having cemented his fame, Mantegna established himself in the court of Ludovico Gonzaga, in Mantua.
This canvas, painted in egg tempera for the church of Santa Maria in Organo (Verona), is thought to have been placed in the high altar on 15 August 1497, the day of the Assumption of the Virgin. From 1791, at least, it formed part of the museum of the Trivulzio family, in Milan, and was moved to public collections in the 20th century.
Flanked by Saint John the Baptist, Saint Gregory, Saint Benedict and Saint Jerome, the Virgin and Child, levitating above three angel musicians, are depicted within a mandorla filled with the heads of putti. The profuse vegetation of the frame, with fruits and floral motifs with symbolic meaning, and the scroll bearing Latin inscriptions undoubtedly relate to his years of training, but the vigorous pictorial notation of the saints and the ingenious composition, devised to be seen from the nave of the church, di sotto in su, show a mastery of perspective and the still-steady hand of the painter, now in the twilight years of his career.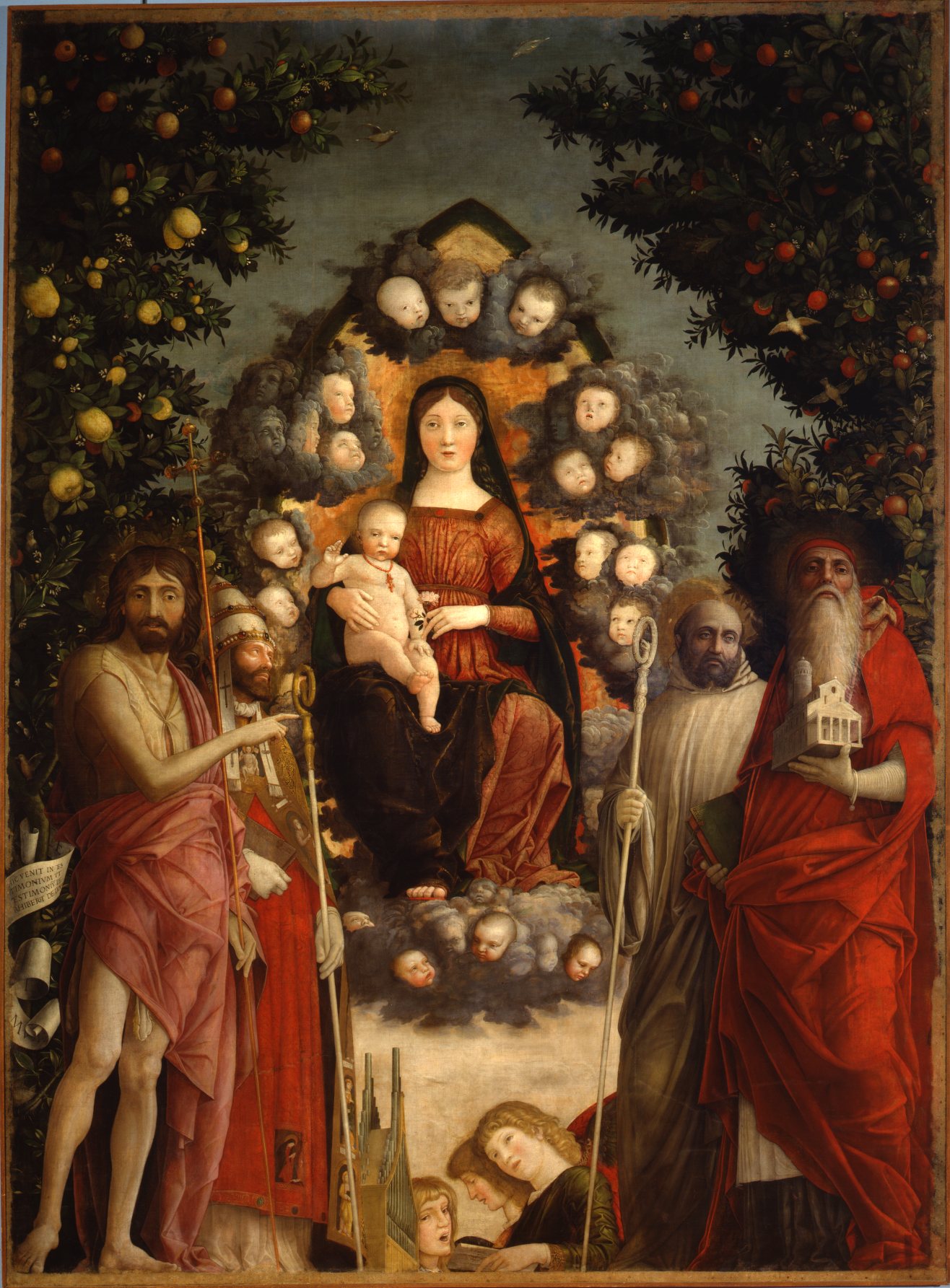 Andrea Mantegna (1431-1506), Madonna in Glory with Saints, 1497, Tempera on canvas, 287 × 214 cm, Milan, Pinacoteca del Castello Sforzesco
©
Google Arts & Culture
____________________________________________________________________________
EXHIBITION BOOKLETING