GUEST WORK
NICOLAS POUSSIN
Self-portrait
Musée du Louvre

Nicolas Poussin (1594-1665) is arguably the greatest French painter, despite having spent almost forty years in Rome, where he settled in 1624 at the age of 30. At that time, there was a highly competitive art scene in the papal city, where the finest painters from all over Europe came to learn their craft. Between 1640 and 1642, having been summoned by Cardinal Richelieu and Louis XIII, who appointed him First painter to the King, Poussin spent two years in Paris. In 1642, disgusted by the court intrigues in that environment and preferring to produce small-scale paintings with subtle poetry and great philosophical depth, he returned to Rome, where he remained until his death in 1665.
In 1647, one of his closest friends, Paul Fréart de Chantelou, asked him for a self-portrait as a mark of their loyal friendship. The artist hesitated, as he did not like painting portraits, but finally decided to accept. In this work, Poussin represents himself in an austere fashion, with a severe expression, his hand resting on a sheaf of papers, alluding to the letters he exchanged with Chantelou. On the little finger of the left hand, he wears a ring with a pyramid-shaped diamond, a stoic symbol of strength and constancy. The artist thus emphasises his steadfast nature and his loyalty to Chantelou, but, above all, depicts himself as a painter.
The
Self-portrait
is, more than anything, a moving testimony to friendship; and it also became the emblematic image of this stern and rigorous genius.
____________________________________________________________________________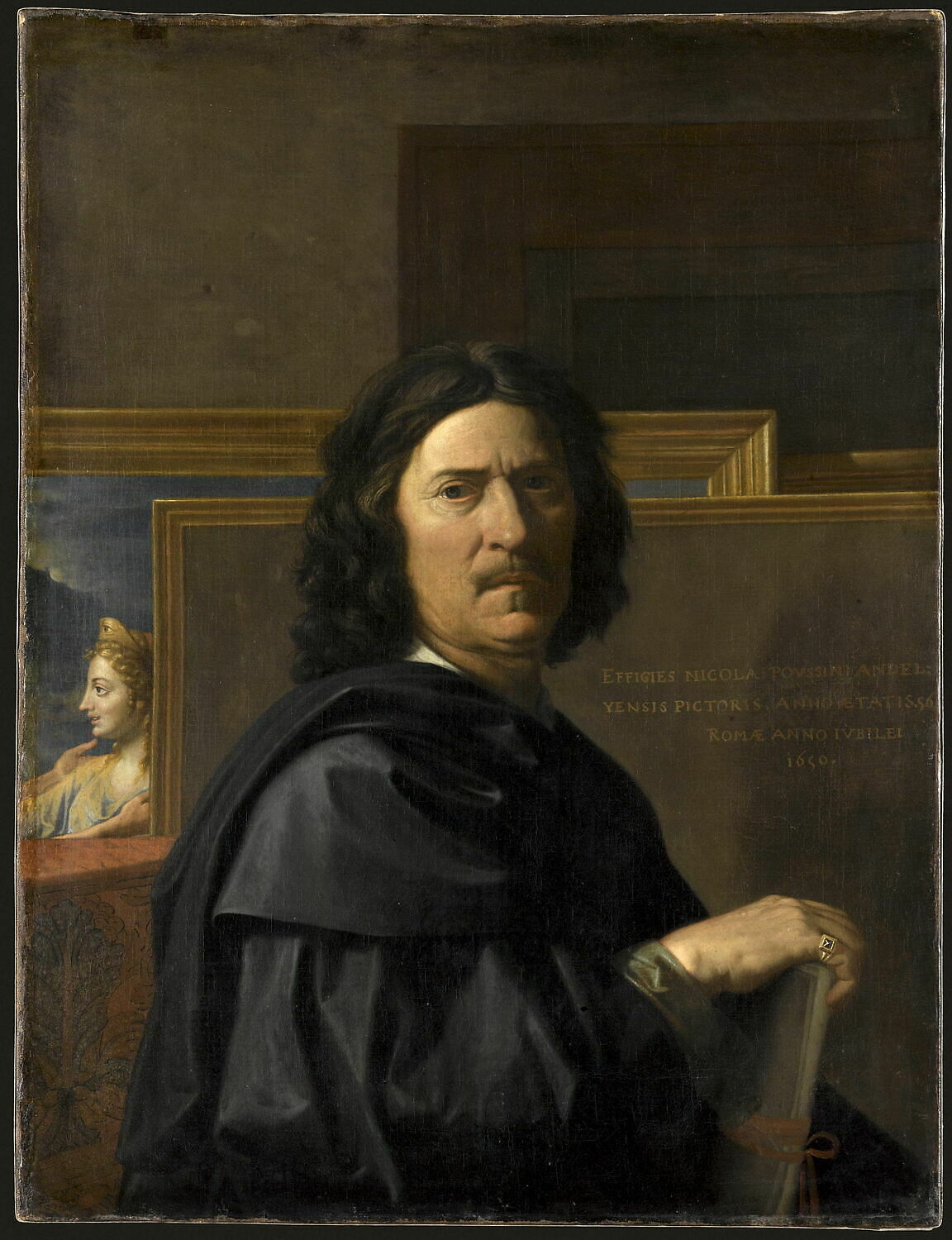 Nicolas Poussin (Les Andelys, 1594–Rome, 1665) |
Self-portrait
, 1650, signed and dated | Inscription: «Effigies Nicolai Poussini andelyensis pictoris. Anno aetatis. 56. Romae anno jubilei 1650» [Portrait of Nicolas Poussin, painter from Andelys, aged 56 years. Rome, jubilee year 1650] | Oil on canvas | Paris, Musée du Louvre, inv. 7302 | © 2008 RMN-Grand Palais (musée du Louvre) Jean-Gilles Berizzi
____________________________________________________________________________
EXHIBITION BOOKLETING

FR

____________________________________________________________________________